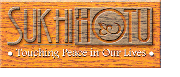 Sukhi Hotu Sdn Bhd

Products
We are the sole distributor in Malaysia for the following products. Individual purchase or retail enquiries are most welcome.
Metta is a Pali word meaning loving-kindness. ...
Jayamangalagatha - depicts the triumph of the creative power of goodness over the destructive force of evil.
A Pragmatic Approach to Vipassana...
Rasika's collectionof 200 haiku poems with a distinct vipassana flavour...
T-shirt with meaningful messages...
Services
We provide the following services-both professional services as well as community services in line with our Mission Statement.
Specialised in publication of quality dharma books and magazines. ...
Specialised in designing meaningful and spiritual uplifting messages...
Come and join our meditation classes...
Free healing ...

Community Service - Sasanarakkha Buddhist Sanctuary - Fund-raising project

Do visit http://sasanarakkha.cjb.net/ for more information...
Mailto:sukhihotu2@maxis.net.my with questions or comments about this web site.
Copyright © 2000 Sukhi Hotu Sdn Bhd
Last modified: January ,(, /),(