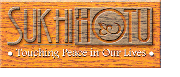 Sukhi Hotu Sdn Bhd

Halo'd Truimphs


Cover page - available in both CD and cassette.
Jayamangalagatha - Songs of Victory
Uncover the ancient inspirational paradigm, recited in Pali, of the various spiritual powers in the Jayamangalagatha which depicts the triumph of the creative power of goodness over the destructive force of evil by the Buddha.
Each of the eight episodes expresses an act of will born of unshakable faith in the efficacy of spiritual power for the welfare of oneself and others.
Goodness not only overpowers evil, but triumphs by sublimating and transmuting it. No mere idealistic sentiment, this grand conquest is a veritable truth.
Pricing
| Description | Price |
| --- | --- |
| Price in Malaysia: CD | RM23.00 |
| Price in Malaysia: cassette | RM10.00 |
| | |

Mailto:sukhihotu2@maxis.net.my with questions or comments about this web site.
Copyright © 2000 Sukhi Hotu Sdn Bhd
Last modified: January ,(, /),(