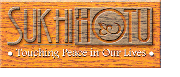 Sukhi Hotu Sdn Bhd

What you can find at Sukhi Hotu:
Books
Interesting range of books from publishers worldwide (including local publishers) covering Buddhism, philosophy, psychology, self-help, health and motivation.
to bring in good selection of spiritual, healing and Buddhist books/magazines within our financial means
Gifts & Souvenirs
Posters, bookmarks, T-shirts, stickers and various items carrying meaningful messages.
New-age Products
Aromatherapy products, floating candles of various sizes, variety of incense, and ambience music in CD and tapes for relaxation and various cures.
Home Deco
Interesting collection of imported lacquer wares, tapestry, wind chimes and paintings.
Buddhist Art, craft, literature etc
We also have a good range of Buddha images, Dhamma audio and video tapes, Sangha/monk's requisites, meditation mats and cushions, etc.
Desktop publishing & design work
And much more....
Feel free to walk into our home and browse around.

Our Mission
Towards the path of nurturing mental peace and physical well-being.

Company Profile


Introducing who's who?
Penang Main office
Petaling Jaya Branch
Ms Doreen Lim
Mr Hor Tuck Loon
Ms Melinda Tang

Contact Information
Feel free to drop by at our shop or even drop us an email.
Sukhi Hotu Sdn Bhd
Mailto:sukhihotu2@maxis.net.my with questions or comments about this web site.
Copyright © 2000 Sukhi Hotu Sdn Bhd
Last modified: January ,(, /),(