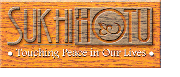 Sukhi Hotu Sdn Bhd

Community Service - weekly Thurs Vipassana sittings
Come and join our weekly meditation classes conducted by Bro Hor Tuck Loon. Please give us a call at 03-706 2833.
Venue:
Sukhi Hotu Sdn Bhd
11A, First Floor, Jalan SS24/8, Taman Megah, 47301 Petaling Jaya.
Time: 7.30pm
Date: every Thursday of the week.
Key Benefits
It is a way of life which frees oneself from the 'glamour' or maya such as greed, anger, delusion etc.
A noble practice which developes positive, creatice energy for the betterment of oneself as well as society.
It is not a rite or ritual based on blind faith.

Note: Unsuitable for those with mental instability.

Mailto:sukhihotu2@maxis.net.my with questions or comments about this web site.
Copyright © 2000 Sukhi Hotu Sdn Bhd
Last modified: January ,(, /),(