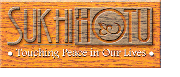 Sukhi Hotu Sdn Bhd

The Chant of Metta

Pali/English version

Pali/Mandarin version
Cover page - available in both CD and cassettes.
Metta is a Pali word meaning loving-kindness. Metta chanting is the radiation of loving-kindness towards all beings: May they all be well, peaceful & sound.
Imee Ooi chants the Pali beautifully in the first track and in the second track she renders it wonderfully, too, in English with the Pali faintly audible in the background.
Metta chanting is soothing, uplifting, joyful and a great healing for the world ~ pervading it with waves after waves of love.
Truly, may all being be happy. May they live always in peace & harmony.
Pricing
| Description | Price |
| --- | --- |
| Price in Malaysia: CD | RM23.00 |
| Price in Malaysia: Cassette | RM10.00 |

Mailto:sukhihotu2@maxis.net.my with questions or comments about this web site.
Copyright © 2000 Sukhi Hotu Sdn Bhd
Last modified: January ,(, /),(